Asia Bibi
Arrested June 2009 in Pakistan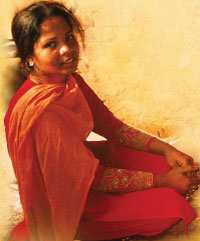 Asia Bibi, a 37-year-old Pakistani woman from the village of Ittanwali, was arrested by police on Friday, June 19, 2009. Asia (also called Asia Noreen) is the wife of 50-year-old Ashiq Masih, and their family is one of only three Christian families in a village of 1,500 families.
Many of the local women, including Asia, work on the farm of Muslim landowner Muhammad Idrees. During their work, many of the Muslim women have pressured Asia to renounce Christianity and accept Islam. In June, the pressure became especially strong.
On Friday, June 19, there was an intense discussion among the women about their faith. The Muslim women told Asia about Islam. Asia responded by telling them about her faith in Christ. Asia told the Muslim women Christ had died on the cross for sins, then asked them what Mohammad had done for them, according to VOM sources. She told them Jesus is alive, but Mohammad is dead. "Our Christ is the true prophet of God," she reportedly told them, "and yours is not true.
"

Upon hearing this, the Muslim women became angry and began to beat Asia. Then some men took her and locked her in a room. They announced from the mosque loudspeakers that she would be punished by having her face blackened and being paraded through the village on a donkey. Local Christians informed the police, who took Asia into custody before the Muslims could carry out their plan. She was held at the police station in Nankana city. Christians there urged the police not to file blasphemy charges, but police claimed they were under pressure from local Muslim leaders.
Seventeen months after Asia's arrest, she was convicted of violating subsection C of Pakistan's 295 blasphemy law — blasphemy against the prophet Muhammad — and was sentenced to death. No Christian in Pakistan has ever been executed under the blasphemy law, but in several cases, extremists have murdered Christians after their release from prison. Asia's conviction and death sentence have brought international attention to the country's blasphemy laws. Christians have called for Asia's release and for a repeal of the laws, while extremists in Pakistan continue to demand that she be executed.
Imprisoned Christian Asia Bibi was visited by her husband, Ashiq, on March 6, 2012. When Asia inquired after her two young daughters, Ashiq told her that the children were healthy and doing well in school.
She told him she was feeling discouraged about ever being released.

 He said, "Yesterday when we had family prayer, I asked the children what they were praying for. They said, 'We are praying for those people who are helping us and who are trying to release our Mama.'
At that moment, Ashiq "felt God's presence, and He said to me, 'Don't be afraid, I am with you.'"
Information obtained from the Voice of the Martyrs website: http://www.persecution.com
You can write a letter to Asia at: http://www.prisoneralert.com/pprofiles/vp_prisoner_197_profile.html