Frans Van Der Lugt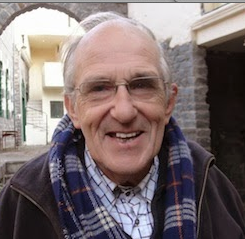 In 1964, Frans Van Der Lugt left Holland to study Arabic in Lebanon. He then moved on to Syria in 1966 and considered it to be his home. Van Der Lugt was a well-known figure in Homs, a rebel-held city that has been under a government siege for more than a year. The priest was respected by many for his efforts to get a blockade lifted so that aid could enter the city. Before the civil war, Syria had an estimated Christian population of 2.5 million. Since the fighting began, Islamist militants among Syria's rebels have targeted Christians, forcing more than 450,000 of them to flee their homes.
On Monday, April 7th, 2014, A gunman entered Van Der Lugt's monastery, took him to the garden and shot him in the head. They said he appeared to have been directly targeted.
Frans, 75, was a man of great courage, who stayed in Syria when he could have fled. He wanted to "remain faithful to the Syrian people to whom he had dedicated his life and his spiritual service."
The Jesuit priest refused to leave out of solidarity with its residents, sharing the suffering they are going through. "The Syrian people have given me so much, so much kindness, inspiration and everything they have. If the Syrian people are suffering now, I want to share their pain and their difficulties."
He had refused to be evacuated, saying he would not leave Homs while there were still Christians in the city.
Let's be fervent in our prayers for the Persecuted Church behind enemy lines in Syria and other parts of the world.