Dr. Jerry Umanos
Dr. Jerry Umanos, servant of God, husband, father, friend, and pediatrician was murdered in Kabul, Afghanistan in April of 2014. His life touched many both inside and outside the USA and his death hit very close to home as I have friends and family who work for Lawndale Christian Health Center who knew and loved him.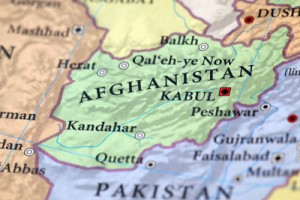 As the event unfolded, the words of his wife, Jan, dripped with grace as she immediately forgave her husband's attackers. However, this is the Christian way. We know that we do not "fight against flesh and blood" but fight against "powers and principalities" (Ephesians 6:12). Knowing this gives us the grace to love our enemies because we are aware that larger forces are at work and "greater is He who is in us … than he who is in the world" (1 John 4:4). Even though some time has passed, we should not forget to pray for Dr. Jerry's family, friends, and colleagues as they continue his work by healing and helping children in Afghanistan and throughout the world.
—Kathryn McBride
"Beloved, let us love one another, for love is from God, and whoever loves has been born of God and knows God. Anyone who does not love does not know God, because God is love. In this the love of God was made manifest among us, that God sent his only Son into the world, so that we might live through him. In this is love, not that we have loved God but that he loved us and sent his Son to be the propitiation for our sins. Beloved, if God so loved us, we also ought to love one another. No one has ever seen God; if we love one another, God abides in us and his love is perfected in us. By this we know that we abide in him and he in us, because he has given us of his Spirit. And we have seen and testify that the Father has sent his Son to be the Savior of the world. Whoever confesses that Jesus is the Son of God, God abides in him, and he in God. So we have come to know and to believe the love that God has for us. God is love, and whoever abides in love abides in God, and God abides in him. By this is love perfected with us, so that we may have confidence for the day of judgment, because as he is so also are we in this world. There is no fear in love, but perfect love casts out fear. For fear has to do with punishment, and whoever fears has not been perfected in love. We love because he first loved us. If anyone says, "I love God," and hates his brother, he is a liar; for he who does not love his brother whom he has seen cannot love God whom he has not seen. And this commandment we have from him: whoever loves God must also love his brother." (1 John 7-21 ESV)
---
It was midmorning at Cure International Hospital in Kabul, Afghanistan, when Dr. Jerry Umanos took a phone call. He told co-workers he had to meet some guests at the front gate and would be right back.
Minutes later, Umanos and two of his American guests were dead, gunned down by an Afghan police security guard. Another American was wounded.
A day after Thursday's attack at the hospital run by a U.S.-based Christian charity, those colleagues were mourning the pediatrician known as "Dr. Jerry" who treated children and helped train Afghan medical workers.
Thursday began at the hospital like most other days, with the 57-year-old Chicago pediatrician talking with Afghan doctors and checking on the progress of the 30-40 children who are patients, according to Dr. Noor Ahmad, a physician at Cure. Umanos had been working in Kabul for at least seven years.
No one thought much about it when he received a call to come to the hospital's front gate to escort some visitors inside, Ahmad said.
"Then, inside the hospital, a terrible sound of guns was heard," he said.
By the time terrified staff reached the scene, Umanos and two other men were dead, and an American woman was wounded in the left hand and chest, Ahmad said. He said he never learned who the visitors were but assumed they were trainers for a disaster preparedness course the hospital was planning for Sunday.
"It's very terrible. I didn't sleep last night," Ahmad said.
Cure International Hospital has about 100 beds and a staff of 26 doctors and 64 nurses. It is located on the western outskirts of Kabul, near the hollowed-out ruins of Darulaman Palace that was destroyed by the civil war in the 1990s.
The hospital compound has a front gate and a security post set about 50 yards back, with the main building set farther back in a courtyard.
Umanos went to the gate at about 9:50 a.m. to greet and sign in his visitors, said Hafiz Khan, police chief of Kabul's District 6.
"After that, he put the barrel of the Kalashnikov to his stomach and shot himself," Khan said, confirming the account by Cure International. Earlier, an Afghan police spokesman had said the attacker was shot by other security forces.
Umanos' colleagues saved his killer's life by operating on his wounds.
It was still unclear what prompted Aynuddin, who like many Afghans uses only one name, to open fire.
Such "insider attacks" are sometimes claimed by the Taliban insurgency as proof of their infiltration. Others are attributed to personal disputes or resentment by Afghans who have soured on the continued international presence in their country more than a dozen years after the fall of the Taliban's ultra-conservative Islamic regime.
Jan Schuitema, Umanos' wife, said in Chicago that he always wanted to work with children and became fascinated with Afghanistan when visiting in 2006.
"What he would really want people who care about this to know is that he really did love Afghanistan and the Afghan people," said Schuitema, a teacher who also spent time teaching in Afghanistan.
She added that while violence in the country was "a reality," the couple did not live in fear.
"We are just so, so sorry. I can't get it out of my mind," Ahmad said. "He trained more than 50 Afghan doctors. He was just like our brother."
Taken in part from:
http://www.cbsnews.com/news/afghanistan-hospital-attack-recalled-by-victim-jerry-umanos-colleague/
A Personal Account
"It is with the deepest of sadness that I write today, mourning the loss of my dear friend and colleague Dr. Jerry Umanos. Dr. Jerry Umanos was a pediatrician at Lawndale Christian Health Center for 25 years and touched the lives of countless children and families in and around the Lawndale community of Chicago. Jerry's greatest desire was to use every skill he had and every moment of his days to be the hands and feet of Christ in service to others – whether here in Chicago or on the other side of the globe in Afghanistan. For nearly a decade, Jerry volunteered in Afghanistan at CURE International Hospital. There, he compassionately cared for some of the most vulnerable pediatric patients in a place with severely limited resources. Jerry learned the Dari language and developed a heart for the Afghan people. His tireless energy focused on developing a medical residency program to train Afghan doctors to deliver top-quality pediatric care, just as he provided to his patients at Lawndale.
Jerry fully understood the risks of serving in Afghanistan. For him, the privilege of serving the Afghan people far outweighed this risk. He truly lived his life according to Jesus' instructions to "Love the Lord your God with all your heart, and with all your soul, and with all your strength, and with all your mind, and love your neighbor as yourself" (Luke 10:27). Jerry loved his neighbor wherever he was. When he saw need, he went. Jerry looked at the world as through the eyes of Christ and he responded, not reluctantly, but with an inner joy flowing outward from his strong faith.
Jerry loved what he was doing. His enthusiasm was so contagious that since 2007 many Lawndale Christian Health Center staff and friends have traveled to Afghanistan alone and in teams to help at CURE International Hospital, see patients in a family medicine clinic, teach medical residents, or set up health screenings in schools to help Afghan children and families in the poorest neighborhoods in Kabul. Many pediatricians went, but so did internists, family medicine physicians, OB/GYN physicians, midwives, nurse practitioners, pharmacists, physician assistants, psychologists, nurses, medical assistants, and others. I am thankful that I was twice able to volunteer alongside Jerry in Afghanistan. Along the way, these groups, including me, also met and grew to love the dear Afghans with whom we worked and served. Please pray with us, the Lawndale family, and for the Afghan residents, physicians, and medical staff that Jerry worked with side-by-side every day. They are hurting too. Pray also that God would comfort not just these, but all those affected by this tragedy, including Jerry's family and the entire staff of CURE Hospital in Kabul. In this way, we can continue to honor Jerry's legacy."
Bruce Rowell, M.D.
Chief Clinical Officer for Quality
Lawndale Christian Health Center