Ned Meharg
Ned Meharg left a lasting impression on all who knew him.
Can I tell you about him?
He was an Australian bushman from Bundeberg, Queensland.
Ned was a large angular man with a craggy face who radiated warmth and kindness.
"… what does the LORD your God ask of you but to fear the LORD your God, to walk in obedience to him, to love him, to serve the LORD your God with all your heart and with all your soul." — Deuteronomy 10:12
He was born into a God fearing home. Over time, a burning desire grew within him to go to South America to spread the news of God's love for the world. With minimal education and a poor command of English, how could he master a foreign language? It took years to convince the mission board of his worthiness as a candidate.
But realize his dream, he did.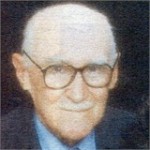 Ned worked in several provinces in Bolivia. I met him in 1967. By then he and his wife Flora were the senior missionaries in the Amazon, in the far north province of Pando. I settled in a small jungle village 20 klms away from them, but I knew should I need him, Ned would hear through bush telegraph and would always be there for me.
Ned lived the Sermon on the Mount. He travelled the rivers in his canoe dispensing medicine as he went, ferried the sick to where they could get help and tirelessly worked to make life better for all those around him. He never did conquer the Spanish language. The villagers would chuckle away good naturedly as he made many unintended errors, but they felt his love and knew he cared, and they came to hear his message.
Not for him were there any garlands or trophies, but those of us who worked with him, knew where the accolades belonged. He left a living legacy of a school, an orphanage, a youth camp and a strong vibrant church. Ned and his wife will ever be lovingly remembered by all those for whom they gave their lives.
by Ruth Hale